SOMA on Cambie rises in Vancouver
GBL Architects recently completed the SOMA on Cambie apartment building in Vancouver, British Columbia.
Covering 28,000 square feet, the development is in line with Vancouver's overarching plan for higher density land use development and contributes to a more sustainable and livable neighborhood along Cambie Street, one of the city's major transit corridors.
The six-story apartment building comprises 32 units; Nineteen are designed for families with children. The residential units can be reached via the two underground parking levels or at ground level via the main pedestrian entrance along Cambie Street.
While urban development guidelines usually stipulate several steps backwards on all sides, the size and shape of the property mean that the dimensions of the building differ from those of the neighbors. At the southeast corner, above the public entrance, there is a six-storey brick facade without any horizontal break. The other elevations follow the traditional recesses above the third and fourth floors in order to reduce the perceived height of the building.
The extensive use of masonry cladding reinforces the monolithic expression of the building. A subtle sheen of dark brick increases the shade variations as the day progresses, with its rough texture contrasting with the glaze. Box-shaped frames protrude outwards from the window openings along the south and west façades and offer protection from the sun and thus reduce excessive heat build-up in summer.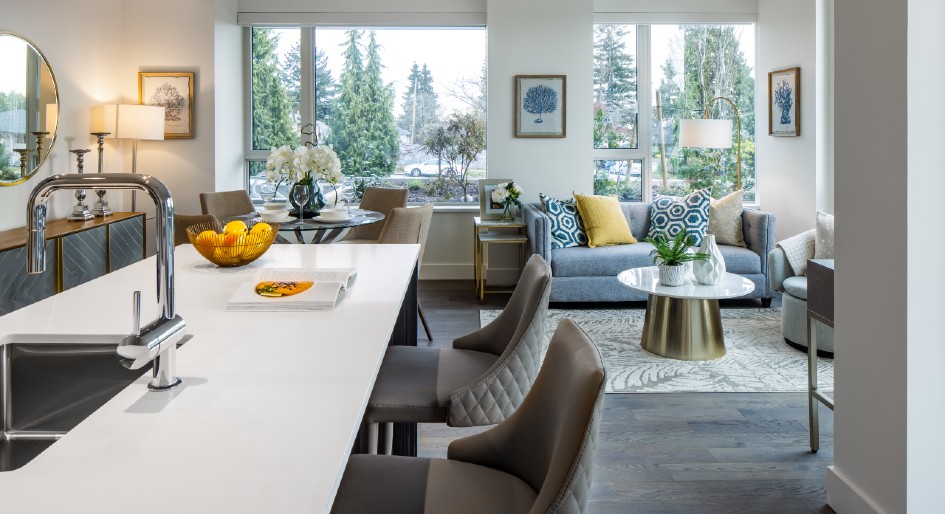 Careful design considerations were taken into account when creating a comfortable living environment for the residents. The low window-to-wall ratio when using continuous insulation reduces heat loss and leads to significant energy savings.
Photo by Upper Left Photography